Penzance bus stop crash boy 'felt he would die'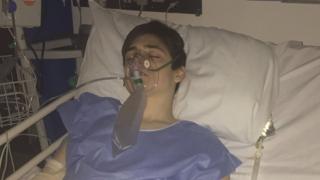 A teenager thought he was about to die after being hit by a car at a bus stop, his mother has said.
Josh Ladd, 16, suffered multiple injuries including a punctured lung, fractured leg, broken ankle and broken collar bone, Marlene Ladd told the BBC.
Her son was hurled down the road before being trapped by debris from the smashed bus shelter, she said.
Ms Ladd described the crash in Penzance, Cornwall, on Monday morning as "every mother's worst nightmare".
The college student, who was due to take his mock A Level exams, was flown to Derriford Hospital, Plymouth, where he underwent surgery to fit a metal rod into his leg and remains in hospital.
"He thought he was a gonner as he couldn't breathe," Mrs Ladd said.
"He has been really brave but as soon as he starts speaking about it he starts shaking," she said.
"When I found out I went into meltdown. I burst into tears in the supermarket and started screaming, I think."
Police said the female driver of the blue Ford Focus, who is in her 30s and from Penzance, was not arrested.