Cornwall driver Daniel Smith 'wished he died' instead of victim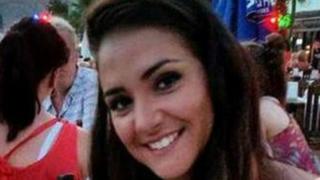 A driver who caused the death of a young mother after a Christmas pantomime "wished he died instead", a court has heard.
Daniel Smith, 31, from St Teath hit another car head-on after he was "caught out" driving round a bend in Cornwall, Truro Crown Court was told.
Sabrina Bellman, 28, from Hampshire, died on Boxing Day 2015.
Mr Smith admits causing death by careless driving but denies causing death and injury by dangerous driving.
More on the trial, plus more Devon and Cornwall news
In a statement read to the court, Daniel Smith, a divorced father of two, said what happened would "stay with him forever".
"I wish it was me that died in the crash and not her. I am so terribly sorry for what happened," he said.
Sabrina Bellman's three-year-old daughter Elsie, husband Dominic and mother-in-law Dawn, were all injured in the collision after a trip to see Sleeping Beauty on stage in Exeter during a family holiday.
The jury was told Mr Smith was probably driving at a maximum speed of 57mph in a 50mph speed limit zone.
David Loat, a forensic accident investigator, said he believed Mr Smith "was not in full control of the car and was "caught out by the bend".
The court heard Mr Smith, who was seriously injured in the crash, was "upset and confused" after a family row that day, but was not angry and was not rushing.
The trial continues.