Man who drove car into sea in Cornwall arrested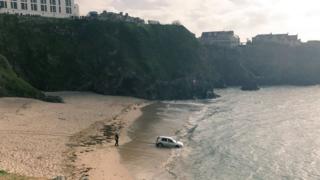 A man has been arrested on suspicion of drinking and driving after a car was driven into the sea.
Police in Cornwall were called to Great Western Beach, Newquay at 17:45 BST on Tuesday.
A 38-year-old man was arrested and is in police custody.
The car had to be towed on to a different beach once the tide was out in order to remove it, an eyewitness said.
More on the car in the sea story, and other news
Jamie Clogg from Towan Motors came to help the beach owners remove the car.
He had to wait until the tide was out, after 8pm, to tow the car along the sand to Towan Beach - a journey of just under half a mile.
"The car would be stuck otherwise so I went down to help them. There were police everywhere.
"When the tide goes out there's a hard bit of ground which we could drive across - you'd never drive across the dry sand."