Locked-in Bude toddler visits rescuers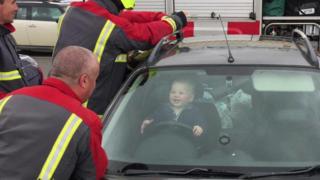 A toddler who locked himself inside his mother's car has been reunited with the firefighters who rescued him.
A picture of Brandon Green in the car went viral and was shared all over the world.
He had accidentally locked the car from the inside after his mother Kirsty left the keys in the boot while unloading her shopping.
Fourteen month-old Brandon and his mum went to Bude fire station in Cornwall to thank the firefighters.
More on this story and other Cornwall news here
The rescuers tried to prise open the door of the car in a Bude supermarket car park .
But they were forced to smash a window after seeing Brandon putting a coin into his mouth.
Fire service watch manager Matt Wonnacott said: "The response to the picture was crazy and we're still getting lots of positive response about it now. "
Brandon's mother said "They did a really good job and I'm so grateful that they were there."
Cornwall Fire and Rescue Service said it took 27 calls to release children from locked vehicles in the year to 5 May.