Father's ashes stolen from woman in Perranporth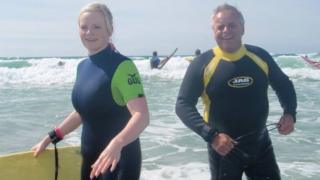 A man's ashes have been stolen from his daughter as she holidayed in Cornwall.
Joanne Young carried her father's ashes in a locket in her wallet, which was stolen along with her handbag as she fed ducks with her two young children.
Mrs Young, 28, from Bath, had taken her family on holiday to Perranporth because she had gone there every year with her father every year throughout her childhood.
She said: "The money isn't important to me but my dad's ashes mean the world."
More on the ashes theft story, and other news
John Hadley died from cancer aged 61 in June 2014.
Mrs Young, 28, said: "I keep the locket with me all the time because wherever I go I want him with me.
"He brought me down here with my mum and sisters every single year to the same flat and I wanted that for my kids, which is why I brought them."
Mrs Young married in September 2016 and has two boys, three-year-old Jaxon, and John, one, named after his grandfather.
She said: "I wore his ashes down the aisle in my heart locket with my bouquet because I wanted him there with me on my wedding day."
Her handbag was taken on Monday at Perranporth boating lake between 18:30 and 19:30 BST.
The family lost both their wallets, a mobile phone and more than £400 in cash as well as the ashes.
The community has rallied round as word has spread around Perranporth of the family's loss.
Mrs Young said: "We've had people give us vouchers for free ice creams and fish and chips and the owner of the local pub gave us a free lunch."
The police have been informed of the theft.