Gary Lineker and Devon MP Gary Streeter clash on Twitter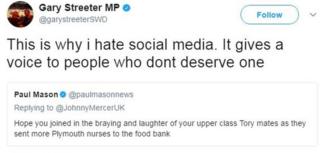 A Conservative MP has been criticised for tweeting that some people "don't deserve" a voice on social media.
Devon MP Gary Streeter's tweet was in reply to a post by political commentator Paul Mason.
Ex-England footballer Gary Lineker is one of thousands who have replied to the comment.
Mr Streeter told the BBC: "I believe in freedom of speech and expression but I'm asking for a grown up debate rather than people being so jolly rude."
More on the Twitter storm and other stories from Devon
Mr Streeter tweeted: "This is why i (sic) hate social media. It gives a voice to people who dont (sic) deserve one."
The tweet has had about 3,800 responses so far including one from Lineker who retorted: "This is why I love social media. It gives a voice to people who deserve one."
Mr Streeter was responding to a tweet by Mr Mason which criticised one of his fellow Conservative MPs Johnny Mercer over the public sector pay gap.
"Someone was abusing one of my colleagues," the MP for Devon South West said.
"I am saying people don't deserve a voice if that voice is just to attack and be rude and abusive."
Mr Streeter said that "as an elected representative you want to hear from everyone" but "let's have that conversation in a civil manner".
"There's no such moderation at all on social media you just rip into people and I think it's a very unpleasant part of modern life," he added.
Mr Streeter admitted that he used Twitter "very rarely".
He said: "I'm not sure I want to continue using Twitter.
"Perhaps it's something for the younger generation."