Currency scammer Susan Benstead to repay more than £850,000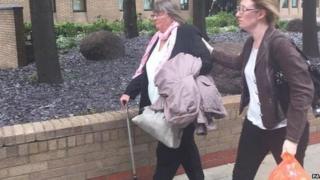 A woman involved in a multi-million pound foreign exchange scam has been told to pay more than £850,000 to her victims.
Susan Benstead, 72, was given a two-year suspended jail term for money laundering in June 2015 for her part in the Crown Currency fraud.
She has now been ordered to pay £868,580 in a proceeds of crime hearing at Southwark Crown Court.
A hearing is under way for the former mayor of Glastonbury, Edward James.
More on the Crown Currency scammer, and other Cornwall news
Crown Currency collapsed in October 2010, owing clients a total of £20m.
Up to 12,500 people are believed to have lost money, the court heard.
Benstead's trial at the same court in 2015 heard she used £900,000 of customers' money to buy a luxury home in Cornwall.
Her husband Peter, 72, killed himself during the trial.
She and James were two of five people found guilty of offences connected to Crown Currency's collapse.
Crown Currency, based in Hayle, was one of the UK's largest personal currency exchange businesses.
It allowed individuals and business customers to pre-order foreign exchange at a set price up to a year in advance.
It provided money in 80 currencies, as well as travellers' cheques and money transfers.