Cornwall nurse struck off for abusing patients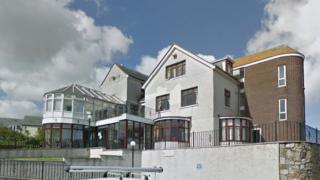 A nurse who abused patients and colleagues over three years has been struck off the nursing register for misconduct.
Yvonne Foley worked at care homes in Cornwall between 2012 and 2015.
A report from the Nursing and Midwifery Council (NMC) found she continued to work as an agency nurse after being sacked for gross misconduct by a previous employer.
The offences included a racist remark to a colleague.
An NMC hearing on 17 July investigated and upheld a range of allegations against Mrs Foley that involved seven patients, two colleagues and three employers.
She worked at the Cornwallis Nursing Home in St Ives between January 2014 and March 2015.
While employed there, she told a patient in coarse language she was walking like she had defecated in her clothes, and advised a new member of staff "not to bother" with a patient who may swear at her.
More on struck off nurse and other Cornwall stories
The report found she caused harm to a vulnerable patient by allowing a specialist inflatable mattress to deflate meaning a pressure sore developed, and she failed to identify deterioration in patients with serious chest infections.
She was dismissed by Cornwallis Care Services, who have been contacted for comment, for gross misconduct, but within months had registered with an agency called Nursefinders in Truro.
The hearing found she had not told the agency the reasons for her dismissal, or that she was subject to the NMC investigation.
May Coogan, manager at Nursefinders, said "I would never have employed her if I'd known."
The misconduct also relates to periods employed by Peninsula Community Health, and working as an agency nurse at Amberley House Care Home in Truro, neither of whom wished to comment.
The NMC said: "Mrs Foley's actions represented a course of conduct which was persistent and adversely affected patients, colleagues and the wider public."