Cooper Johnson-Hicks death: injuries were 'days old'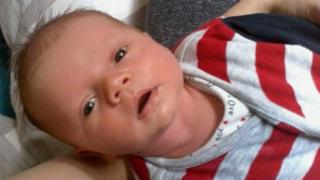 Injuries found on a one-month-old baby who died last year were "highly suspicious" and indicative of being "non-accidental", a pathologist told an inquest.
Cooper Johnson-Hicks died in hospital in Cornwall on 26 June 2016 with serious head injuries.
His father, Tristan Hicks, took his own life weeks later after being questioned on suspicion of murder.
The inquest in Truro heard the baby had fractures that were "days old".
More on baby Cooper inquest and other Cornwall stories
Home Office pathologist Dr Amanda Jeffery told the hearing the complex fracturing to the skull seen in a post-mortem examination were "not readily explained by a fall from a carer's arms".
Mr Hicks had told police Cooper had fallen from his arms after he tripped over a moses basket at their St Blazey flat, causing him to injure his head.
He later changed his account, saying he had landed on top of the baby.
Dr Jeffery said she could not rule out that this version caused the fatal injuries through crushing, but said she was "highly suspicious".
Severe injuries
Another pathologist, Professor Charles Mangham, reported that there were at least two complex head fractures, and 24 rib fractures.
He determined these, "would have been caused by squeezing his chest" and they were "non-accidental".
Some of the injuries were caused several days prior to death, he concluded.
Consultant paediatrician Dr Katherine Mallam, who was on duty at Royal Cornwall Hospital, gave evidence and said she has never seen a baby with injuries so severe.
Dr Mallam, who has worked in paediatrics since 1998, and as a consultant since 2009, said: "I've never seen skull fractures to that extent."
Cooper's mother Bryony Johnson gave evidence saying Mr Hicks had not told anybody about the fall in the flat until much later in the day when they were at hospital, and Cooper had already stopped breathing more than once.
"If I'd known Tristan had dropped him on his head I'd have called the ambulance straight away," she said.
The inquest continues.