Cornwall mine fall man in 'hourglass' gap rescue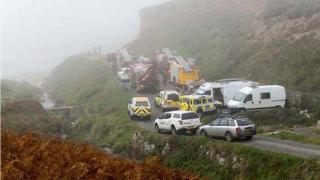 Rescuers had to squeeze through an "hourglass" gap to get to a man who was stuck in an old mineshaft.
Andrew Williams from Wales fell 50ft (15m) down a disused mineshaft in Cornwall and suffered serious injuries say police.
The 51-year-old walker was airlifted to hospital after the fall in the Cot Valley near St Just in Cornwall.
About 50 rescuers took six hours to bring the man to safety through the narrow constriction in the mine.
More on the mine rescue, and other Devon and Cornwall news
Mr Williams had been walking on the coastal path with a group of other people who raised the alarm on Sunday.
Mark Grantham of Cornwall Search and Rescue said: "He was stuck on quite a precarious ledge.
"To get him out we had to come through this kind of hourglass constriction which made it a lot more difficult."
It is believed he fell after going to explore the mine and stepping on a wooden cover which gave way.
"You have unstable roofs, unstable floors, false floors so there are a lot of hazards," said Mr Grantham.
A search and rescue helicopter, two coastguard rescue teams, fire crews, ambulance and police were all involved.