Falmouth nursery staff criminal records 'not checked'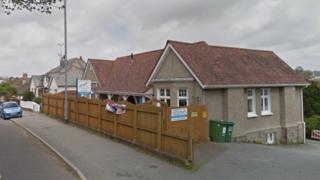 A nursery has been closed by Ofsted after they found some staff had not had their criminal records checked.
First Friends Nursery in Falmouth, Cornwall was rated "inadequate" by inspectors last month.
It found children were left with staff who had not been vetted and "managers and staff do not have a secure understanding of how to keep children safe".
Ofsted said the site was was closed as children "may be at risk of harm".
The nursery and Cornwall Council have been contacted for comment.
'Weak' leadership
In its report, leadership and management at the site was described as "weak" and managers had not completed all necessary criminal record checks for some staff.
Senior staff were not aware which members had not been vetted and children's safety was compromised when unchecked staff were left unsupervised with children, inspectors wrote.
They found cleaning products were kept within reach of children, and a member of staff without a first aid qualification was left supervising outdoor play alone.
It also criticised teaching and said: "The quality... is inconsistent and does not ensure that children make good progress."
The only strength listed was that older children showed "independence as they select toys and manage their personal care needs for themselves".
Ofsted, which rated the site as "good" at its last inspection in October 2016, downgraded its rating and suspended its registration.
A spokeswoman said the nursery, which had 38 children on its books and 13 staff, was closed "as there was reasonable cause to believe that children are or may be at risk of harm".