Woman feared dead in bungalow fire in Looe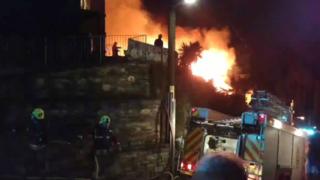 A woman is feared to have died in a fire that destroyed a bungalow.
The house, in Barbican Hill, East Looe, Cornwall, was "completely alight" when fire crews arrived just before 20:00 GMT on New Year's Eve.
They were not initially able to enter the building because of the intense heat and collapsed roof.
A pensioner who lives at the address remains unaccounted for. Friends and relatives are being urged to come forward.
'Vicious flames'
It is not known whether the woman, who lives alone, was at home when the fire broke out.
Four fire engines were called to what emergency services described as a "very severe fire" after about 50 calls were made to 999.
The blaze was eventually extinguished by about 03:25 and police remain at the scene.
Neighbour Robin Pengelly said he and his wife heard a loud bang when the fire started and he "tried to get [the occupant] out".
He said: "I couldn't get in into it. There were really vicious flames coming out of the windows and coming out of the doors."
Cornwall Fire and Rescue Service said its staff were "co-ordinating investigation work" with police.
Kathryn Billing, from Cornwall Fire and Rescue, confirmed the woman was "still unaccounted for".
She said: "With it being new year, we're very aware people go away to spend time with friends and family.
"Police are still trying to locate friends, family and the lady herself."