Storm Eleanor leaves 'tidal wave of waste' in Cornwall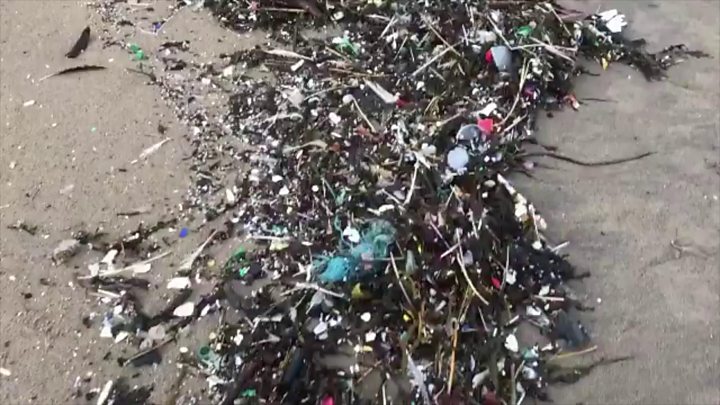 Storm Eleanor has left Cornish beaches littered with waste scooped up from the seabed by the waves.
Martin Dorey, of campaign group #2minutebeachclean, said it was a "tidal wave of waste" and removing it would be a mammoth task.
The effects of the storm and the waste it brought ashore are visible on some of the most popular beaches.
Constantine Bay, Crooklets and Newquay are some of the beaches affected.
Storm Eleanor brought winds of up to 100mph when it hit the UK coast last week.
The churning of the sea brought long-dormant piles of waste from the seabed to the surface, said Richard Thompson, professor of marine biology at Plymouth University.
"There are considerable accumulations of waste on the seabed, out of sight and out of mind until it is stirred up by storms," he said.
"A big storm brings it all back to shore.
"This kind of rubbish is just not going to go away."
In many resorts, volunteers are already clearing up the mess.
In Constantine Bay, a beach clean is taking place on Wednesday.
---
Tips for beach cleaning
Martin Dorey from #2minutebeachclean shared a few helpful guidelines for beach cleaners:
Don't pick up anything organic, just plastics, and be wary of sharp objects such as broken glass or needles
Watch out under cliffs and watch for an incoming tide - don't get cut off
Recycle as much as you can and put the rest in a beach bin
---
Mr Dorey said Crooklets beach at Bude was "horrendous" and had been "as bad as I have seen it" until it was cleared up by local volunteers.
He is encouraging beach visitors to spend just two minutes picking up rubbish in an effort to spread the load.
"It's fun and healthy and you can time yourself to see how much litter you can pick up in two minutes."
How Storm Eleanor changed the shape of Cornwall's beaches
The trampolines that blew away
Volunteer James Dixon, who collected 478 items from Widemouth beach, said: "This is as bad as it has ever been and it's not going away unless everyone does their little bit.
"Keep picking it up until beach cleaners are as common as dog walkers, ice cream and surfers on UK beaches."
Responding on social media to the BBC's story, many expressed concern over the issue of litter in the sea.