Boy finds message in a bottle from Canada washed up in Cornwall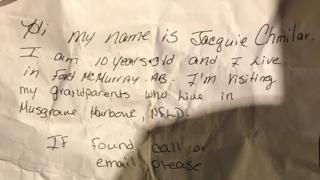 An eight-year-old boy has made a new friend thousands of miles away after finding a message in a bottle washed up on a Cornish beach.
Noah Crooks was helping to clear plastic debris from Storm Eleanor at Stanbury Mouth, near Bude, with his brother and father earlier this month.
His father later emailed the address on the note and soon received a reply from a 10-year-old girl in Canada.
Noah said "it was really cool" and he planned to stay in touch with the girl.
The family live in Morwenstow and went to their local beach to help clear up on Sunday 7 January after large amounts of waste were washed up by the storm.
An email from the girl, Jacquie Chmilar, revealed she had put the bottle in the sea while staying with her grandparents in Newfoundland in Canada six months earlier.
Noah said: "I was just picking up rubbish when I looked in the bottle and saw the note. I went up and told dad but he didn't think it was real until he saw it."
Nick Crooks, the boys' father, said they had been inspired by BBC TV documentary Blue Planet II, which highlighted the amount of plastic in the ocean.
"Every once in a while something comes along, and it just triggers something inside of you, and we all felt very passionately about it," he said.