Shetland pony rescued from slurry pit in Cornwall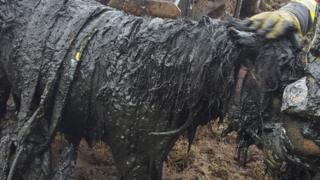 A Shetland pony which went missing for four days has been rescued from the bottom of a slurry pit.
Wayward mare Maple disappeared from her field on Friday morning - leading her owners to fear she had been stolen.
After days of searching, owner Jay Jenkinson heard neighing from the 9ft (2.75m) deep hole in the corner of Maple's enclosure.
He said he was "over the moon" when firefighters winched an uninjured - but rather dirty - Maple to safety.
At first, Mr Jenkinson presumed she had simply escaped.
More on this and other stories in Devon and Cornwall
He said: "Ponies like her have a tendency to jump out, but nine times out of ten they just wander home within a day."
When she hadn't returned by Saturday they believed her stolen and called the police.
You might also like:
On Tuesday morning, Mr Jenkinson was tending another of his three ponies when he heard a noise from a barn.
On closer inspection, he found it to be Maple, trapped down the pit, up to her shoulders in water.
Firefighters from St Just, Penzance and Tolvaddon joined the rescue, and managed to successfully free the pony.
Mr Jenkinson said: "I can't thank them enough. They did such a great job. We've been so emotional, it's just been crazy."
Despite her ordeal, Maple was found to be in good health by a vet, and has now been moved to a barn on the family farm.