Dog swallows fish hook on St Austell beach walk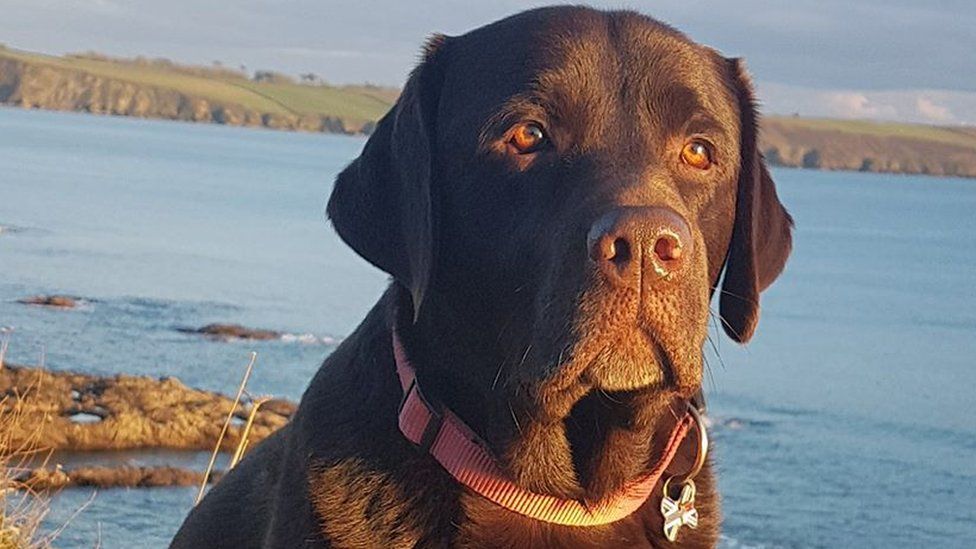 A man is warning pet owners to be vigilant after his dog swallowed a fish hook while on their daily beach walk.
Owner Sean Clancy became worried for chocolate Labrador LJ when he spotted string in the dog's mouth during the outing on Carlyon Bay Beach in Cornwall.
LJ was taken to a local vets where it was confirmed a 6cm (2.5in) fish hook had become lodged in his stomach.
Mr Clancy said an "irresponsible fisherman" could have cost LJ his life.
He believes the hook was not washed up on to the beach but left behind after a fishing trip.
"I am angry that it's happened. We've got to clear up after ourselves, why can't [fishermen] do that as well?" he said.
"It could have been in the summer time, there could have been kids down there that walked on it. If that was a fisherman's kid that walked on that, what would he have done?"
After the emergency operation to remove the hook from four-year-old LJ's stomach, vets told Mr Clancy that LJ was "lucky to be alive".
"They told me if I left it any longer, it would have tried to work its way out and it would have been a different story now," Mr Clancy added.
LJ is now recovering at home.
Mr Clancy said: "I've had get well cards for him, loads of people offering to sit with him while I'm at work, somebody even offered me money towards the vets bills."
The RSPCA said it was a "distressing and shocking situation" and urged those who enjoy fishing to be "extra cautious".
It added: "Most anglers are very responsible, but it only takes one careless person to endanger the life of an animal."
Related Internet Links
The BBC is not responsible for the content of external sites.