Cornish man left with one hip by NHS operation cuts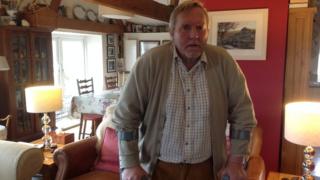 A Cornish man has been forced to live for four months with only one hip following NHS cutbacks.
Colin Durston, 63, had his hip removed in October and was left with only a loose temporary one in its place.
Cancelled elective surgeries left Mr Durston near immobile and without a surgery date, Cornwall Live reported.
The Royal Cornwall Hospital Trust, with whom Mr Durston had the surgery, said it "will offer a surgery appointment as soon as possible".
Mr Durston has already undergone two hip replacements, but after experiencing severe pain for a year sought help again.
Due to the risk of infection, the surgeon decided to remove the hip but not immediately replace it.
Fitted with a temporary hip infused with antibiotics, Mr Durston was then told all NHS non-emergency surgeries had been cancelled.
"My surgeon said that this is fine for older people, but at my age I'll wear it out," Mr Durston said.
Four months on and still using crutches, he is worried about the lasting effects of using this temporary hip.
More news from Devon and Cornwall
Mr Durston, who lives in a first floor residence, also cares for his 95-year-old father who he says is now "getting about better than I am".
In a statement, the Royal Cornwall Hospital Trust said: "We are very sorry that there has been a delay to Mr Durston's hip replacement operation.
"Unfortunately, we have not been able to provide as much planned surgical treatment as we would want over the winter months due to the growing demand for hospital beds on our Truro site.
"We are reviewing Mr Durston's care and will offer a surgery appointment as soon as possible."
Mr Durston has been told to call the health trust weekly in order to find out if there has been any progress.
"It's not that I want it done - it's a horrible op - but this isn't living. I can't even visit people if they don't have a disabled loo. It's a real shame."