Shrove Tuesday hurling tradition continues in Cornish town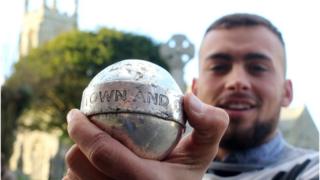 The ancient game of Cornish hurling still takes place in the county every year on Shrove Tuesday.
The game is held in St Columb Major, near Newquay, and involves two teams trying to wrestle, throw and carry a small, silver ball through the streets.
It starts in the middle of the afternoon, with the words: "Town and Country do your best. But in this parish I must rest."
The hurling can last anywhere from a few minutes to a few hours.
The winner is the person who carries the ball across the parish boundary or to their own "goal".
This year's champion, townsman Marco Ciarleglio, carried the ball to his team's goal in under 30 minutes.
The hurling starts at 16:30 and is thrown into the crowd by a person chosen by the previous "winner of the ball" from a stepladder in the town's Market Square.
The town goal is the base of an old Celtic cross and the country goal is a shallow stone trough, with the "pitch" measuring about 20 square miles but the teams can also win by carrying it out of the parish.
The game is considered by many to be Cornwall's national game along with Cornish wrestling.
At one time it was played across Cornwall, but only takes place now in towns like St Columb Major and St Ives.
After a day of hurling another tradition is the "drinking the silver ball".
In the evening the ball is dipped into a mug of the winner's drink. The town even has a pub called the Silver Ball.
A rematch takes place on the second Saturday after the competition - which is on 24 February this year.
The winner can choose to keep the silver ball, although they have to pay for a replacement.