Cornwall migrant workers want police apology after raids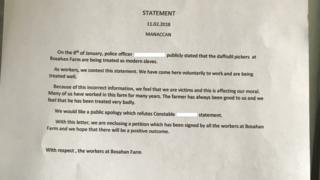 Nearly 200 migrant flower pickers employed at a farm raided last week have written to police demanding an apology for being made to feel like "victims".
Three men were arrested on suspicion of modern slavery and gangmaster offences after the raid near Helston, Cornwall.
The letter, signed by 189 workers, says morale has been affected and defends the farm bosses.
Devon and Cornwall Police said it cannot comment on a live investigation.
More Cornwall and Devon stories
The arrested men have since been released while investigations continue.
The majority of those employed at the Bosahan farm are from Lithuania and Romania.
Fourteen of the workers chose to leave the farm after they were spoken to by police and other agencies.
The letter says they are being "treated well" and "the farmer has always been good to us and we feel that he has been treated very badly".
It states that a police officer "publicly stated that daffodil pickers at Bosahan Farm are being treated as modern slaves. As workers we contest this statement."
Allen Scrimshaw, from the farm, said: "My son Wolf and I have been so devastated by these allegations of modern slavery that we no longer wish to discuss it with anyone until any charges might be made.
"We would like to thank all the pickers for their continued support and all the messages we have received, not just from this country but all around the world."
'Wonderful place'
Justinus Stanislaus, a Lithuanian translator who is helping the group, said: "They want to prove to the world that they are not victims of modern slavery.
"It's a wonderful place to work and they are treated well. They refute everything that has been said in that respect".
On the evening of the raid many of the workers gathered at Camborne Police Station to protest against the arrests.
The following day, Chief Constable Shaun Sawyer explained the raid, saying: "There were reports into police of alleged labour abuse, alleged offence of modern slavery.
"Therein lies the dilemma - you have to at some point intervene and you just sift your way through the evidence."