Row over rival helicopter links to Isles of Scilly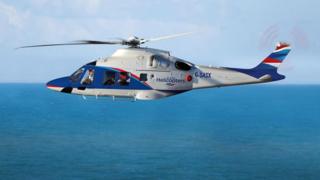 The Isles of Scilly may get two helicopter links to the mainland after a row has broken out over the service.
Tourism bosses said trade suffered when the 48-year-old helicopter link to the islands off Cornwall stopped in 2012.
In a shock move the Isles of Scilly Steamship Company said it will provide a link to Land's End by May 2018.
But the owner of Tresco, Robert Dorrien-Smith, already has plans for a new helicopter base in Penzance to be operational by the spring.
He said the Steamship Company was "tightening its stranglehold" on the islands and due to weather disruption Land's End Airport "is the problem, not the solution."
"It is a blatant attempt to retain a monopoly that is not working in the interests of these islands," he added.
More on this story and other Cornwall news
The Isles of Scilly Steamship Company, which already runs the Skybus service, plans to operate a 10-seater AW169 helicopter year-round, from its established airfield at Land's End.
Andrew May, chairman of the Isles of Scilly Steamship Group, said he was "thrilled" about the announcement, adding: "We know there is demand from thousands of people who have really missed the helicopter since it stopped in 2012."
The Steamship Company previously launched a legal bid against Mr Dorrien-Smith's attempt to establish his own helicopter base in Penzance.
It said a helicopter service would be better out of Land's End airport.
Steamship's new service, Island Helicopters, will operate six days a week in peak season.
It will run eight flights a day, with less frequency in the winter.
If agreed, it will fly to St Mary's Airport and Tresco.
It will be operated by Gloucester-based Specialist Aviation Services (SAS), which already runs Cornwall Air Ambulance from Newquay Airport.