Storm Emma exposes toxic plant on Cornish beach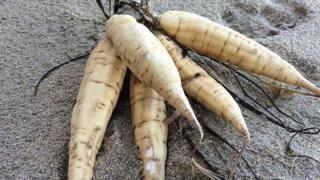 A potentially lethal plant root has been found on a Cornish beach in the aftermath of Storm Emma.
Cliff erosion on Porthkidney Beach in Lelant, near St Ives, has exposed hemlock water dropwort roots - also known as dead man's fingers.
The plant looks and smells like parsley, with a highly poisonous root that resembles a parsnip.
Professional forager and wild food expert Josh Quick said even a small portion "could kill a person".
More on this and other stories in Cornwall and Devon
He said the plant is "one of the most poisonous plants in the northern hemisphere".
"Whilst they are a beautiful plant, these roots are highly toxic.
"It's the first time I've seen the roots exposed like this and there's lots of them. They are often called dead man's fingers and for good reason.
"One of the cliffs has eroded where a large patch was growing. Very unusual to see them growing on a cliff like that; usually they grow in or around water and riverbanks," he said.
Hemlock water dropwort can prove fatal to humans by attacking the nervous system and causing the body to shut down.
There have been rare cases where humans were poisoned when the plant's tuberous roots were mistaken for vegetables.