Patients 'still at risk' at Royal Cornwall Hospital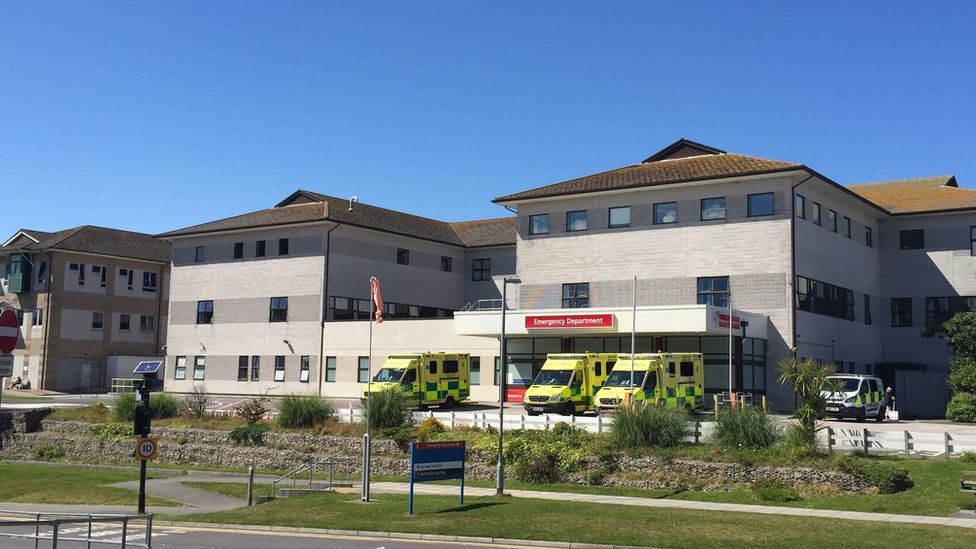 A hospital with "longstanding" problems is continuing to put patients at risk, the Care Quality Commission has found.
An inspection at the Royal Cornwall Hospitals' Trust (RCHT) revealed it had failed to improve in many areas flagged up in a report last year.
A further warning noticed has been issued and the trust must make "significant improvements" by 13 April.
Its chief executive said it accepted the criticisms and was working to meet the requirements.
An unannounced inspection in January found "insufficient progress had been made in maternity, surgery, critical care, outpatients and governance and the requirements of the warning notice had not been fully met".
A maternity operating theatre was less than half the required size and "not meeting current minimum theatre standards for its air change rate, preparation space, and minimum floor area or recovery facilities".
The room measures 21 sq m (226 sq ft), but to meet theatre standards should by 50 sq m (538 sq ft).
By Jenny Walrond, BBC South West Health Correspondent
This is the fifth CQC report highlighting serious concerns at RCHT since September 2015.
Kathy Byrne took over as chief executive almost two years ago with a promise to turn things around, but inspectors say it's not happening fast enough.
The trust has been in special measures for six months and in recent weeks the snow has made things even more difficult. In March it set up a special incident command centre to cope with extreme pressure on services.
There have been stories of difficult meetings between hospital leaders and NHS bosses and rumours circulating about whether the leadership at RCHT can survive yet another critical CQC report.
There must be intense pressure to make improvements.
Inspectors found improvements in some areas, including children's services, cardiology and ophthalmology.
However, the CQC said the trust had failed to make enough progress since its last full inspection in July 2017.
The Chief Inspector of Hospitals, Prof Ted Baker, said: "It is disappointing to report that our longstanding concerns persist about the safety and quality of some services at [Royal Cornwall] Hospital.
"The hospital's systems to assess or mitigate the risks to patients are not good enough.
"We found that patient safety issues are not being given sufficient priority, either in the maternity unit or in surgery."
The inspection covered the main Royal Cornwall Hospital in Truro and did not revisit St Michael's Hospital, Hayle, or West Cornwall Hospital, Penzance.
RCHT chief executive Kathy Byrne said: "We acknowledge and accept the criticisms and are working on every area required to ensure we succeed in getting the trust taken out of special measures as soon as possible."
Related Internet Links
The BBC is not responsible for the content of external sites.