Dean Lowe 'flushed girlfriend's body down toilet' in Cornwall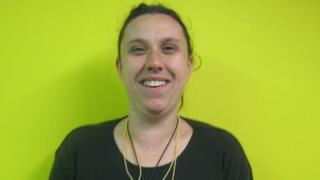 A man beat his girlfriend to death with a rock and a metal pole and disposed of her body, a court has heard.
Dean Lowe, 33, is accused of murdering Kirby Noden in January 2017 at the flat they shared in Marazion, Cornwall.
Prosecution QC Paul Dunkels said the defendant had flushed parts of her body down a toilet and lived at the "blood-stained" property for four months.
Mr Lowe, of Beacon Road, Marazion, has pleaded not guilty to one count of murder at Truro Crown Court.
Mr Dunkels said Ms Noden's blood was on the weapons used to murder her, as well as being spattered around the flat and "soaked into the bed's mattress".
Read more on BBC Devon & Cornwall Local Live
'Disposed of body'
The prosecution said nobody knew what had happened to Ms Noden for four months, until May 2017.
"The defendant then contacted his family in Cheshire to say there had been a body on the floor which he had cut up and put into bins and flushed down the toilet," said Mr Dunkels.
The family contacted police who went to the flat to question Mr Lowe, the barrister said.
Mr Dunkels said when a police officer visited his flat Mr Lowe "admitted to the police officer he had killed Kirby Noden and disposed of her body".
The court has heard that the couple had lived together for a number of years.
Originally from Winsford, Cheshire, they moved to south-west England and lived in Torquay, Devon, and Launceston, Cornwall, before moving to Marazion.
The court heard that they lived "a chaotic lifestyle marked by the use of various illegal drugs".
'Judgment day'
Mr Lowe had sent several messages to family members, the court was told.
On 3 May, he said in a conversation on Facebook Messenger that he was "waiting for judgment day".
Mr Dunkels said: "He was waiting for judgment day as he was living in the flat where he had killed Kirby Noden and her murder was undiscovered."
"The blood-stained weapons he used to bludgeon her to death were still there," he added. "Her blood was all around him - on the floor, on the mattress and on the walls."
Mr Dunkels said for Mr Lowe to continue to live in the flat "for four months in the midst of this must have been gruesome".
"Who could live alongside the decaying corpse of their murder victim?" he asked. "But he did little else to clean up the flat."
The trial continues.