'Plastic pebbles' pollution alert for UK beaches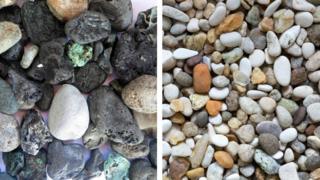 Environmental campaigners have warned of the dangers of "plastic pebbles" that are being washed up on UK beaches.
The so-called plastiglomerates are created from melted plastic combining with other matter found on beaches, such as sand, shingle and seaweed.
After being rolled around on the beach by waves they are hard to distinguish from the real thing.
The Cornish Plastic Pollution Coalition (CPPC) says they could get into the food chain if they get broken down.
The pebbles are thought to originate from plastic bottles and other items melting after being thrown on to beach bonfires or barbecues.
The CPCA says it has seen reports of hundreds of plastic pebbles being found in Cornwall, Devon, Pembrokeshire, Orkney, Spain, Portugal and Hawaii.
Delia Webb, of the CPCA, said: "The danger is that they will become shingle-size and be ingested into the food chain, so they need to be removed like any plastic would be.
"But if people are aware of them we should find more.
"Cornwall gets hit because of currents coming across the Atlantic and if you are a seasoned beachcomber your eyes get attuned to spotting them."
She added: "People need to be aware that it is one thing burning wood on a beach fire but burning plastics with all the toxic fumes that they give off is a no-no."
Canadian academic Dr Patricia Corcoran, who identified the objects in a 2014 study, said plastic pebbles could also be formed by lava flows and forest fires.