Cornwall council concerned about toilet drug use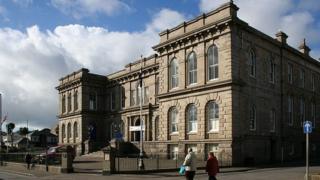 A council has said it is trying to come up with "a measured response" to the problem of people using drug in its office's toilets.
Penzance councillor Cornlieus Olivier highlighted the problem at a meeting of the town's neighbourhoods overview and scrutiny committee.
He said staff at St John's Hall were having to deal with drugs being used in the toilets.
But a cabinet member said the authority does not want to push users elsewhere.
Cllr Olivier asked Sue James, cabinet member for environment and public protection, whether anything was being done about the problem.
She replied that she knew about the problem, and said: "The knee-jerk reaction is that our toilets shouldn't be used for drugs at all.
"We have to be careful as we can't be saying go and do it in an alley or a park.
"While we are not encouraging or supporting, we are looking at whether we take a harder line. We can't push them to somewhere where they could cause more disruption.
"We are trying to take a measured response to ensure we manage the situation rather than putting a security guard in the toilets all the time."