Amelia Grace Cooper died in Newquay from a fentanyl patch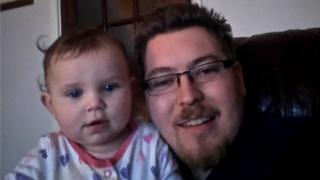 A 15-month-old baby girl died after a pain-relief patch became attached to her skin, an inquest has found.
Amelia Grace Cooper, from Newquay, Cornwall, was found lifeless in her parent's bed on 5 June 2016.
Police said there was "every indication" Amelia died after a fenatnyl opioid patch became attached to her, but "insufficient evidence" as to how it happened.
Amelia's family said she "lit up their lives with her cheeky smile".
More on this story and other Cornwall news
The inquest at Bodmin Magistrates' Court ended with an open conclusion, with the cause of death recorded as fentanyl toxicity.
It heard how Amelia had come into contact with her mother's medication after sharing a bed with her.
A fentanyl patch, which is stronger than morphine, was thought to have been stuck to her skin for a "period of time", allowing the pain relief drug to get into her body.
Det Con Simon Miller from Devon and Cornwall Police said three scenarios had been explored as to how the patch got attached to Amelia's body.
They were the patch becoming detached from Amelia's mother Sara Talbot, Amelia taking it off her mother and applying it herself, or a third person applying the patch.
Det Con Miller said: "There is insufficient evidence to suggest that a third party was involved in this death, but investigations were made thoroughly."
'Careless actions and neglect'
Her father Ben Cooper, 27, and grandmother Manisa Cooper, 48, said Amelia was "adored by all".
"She will always be in our hearts, she deserved to live a long and happy life but was so drastically taken from us due to what we believe to be the careless actions and neglect of the said prescribed mediation," they said in a statement.
"The outcome today has given us a line we can now draw under and enable us to move forward but we will never forget her."
Paediatrician Dr Roger Jenkins said efforts have now been made to make all GPs and pharmacists in the South West aware of the risks of fentanyl patches.
He told the court the leaflet on the medication has been changed and the warning is now more clear about its dangers.