Redruth vegan woman's 'shock' at frog in her Aldi lettuce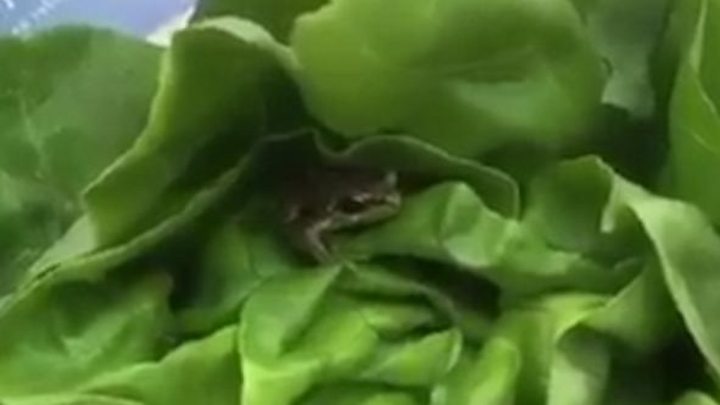 A woman looking forward to tucking into a freshly bought lettuce got a shock when she found a frog lurking among the leaves.
Shevaughan Tolputt, 37, from Carn Brea in Cornwall, bought the lettuce at Aldi in nearby Redruth.
Aldi has apologised and said it is investigating how the frog got into the lettuce and offered her a refund on the 36p salad.
"I was shocked, but I can also see the funny side of it," she said.
"I peeled off the outer layers of the lettuce and there it was," said the marketing officer.
"Of all the things I was not expecting that."
"What to do when you find a frog in your lettuce?!?!? #YouGetExtraAtAldi," she tweeted.
She says on her Twitter profile that she is "trying to be a vegan".
'Incredibly rare'
"I would certainly avoid any protein like that," she said.
So she picked the frog out and put it in a nearby field where it hopped off.
You may also like:
"It is a vegetable so a frog appears to show they are growing them in a natural way," she said.
But she said she has avoided eating the bits of the lettuce where the frog made its home.
"This type of incident, while incredibly rare, can naturally occur with fresh produce," said an Aldi spokesperson.