Police Taser may have contributed to Falmouth man's death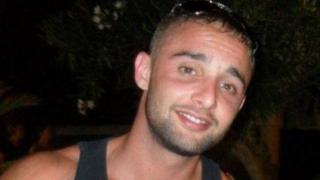 Police use of a Taser may have contributed to the death of a father-of-two, a coroner's court has heard.
Marc Cole, 30, from Falmouth, Cornwall, had self-inflicted knife injuries when he died on 23 May 2017.
A pre-inquest hearing on Tuesday was told Mr Cole's death was "sudden and unexpected".
A pathologist recorded a narrative cause of death and added that it followed the use of cocaine and "an episode of altered behaviour".
Mr Cole died in hospital after being Tasered by Devon and Cornwall Police officers in Langton Road in Falmouth.
Following his death the Independent Office for Police Conduct launched an investigation.
At the hearing at Bodmin Magistrate's Court, coroner Dr Emma Carlyon said the eventual full inquest would be heard by a jury, who would hear evidence from police officers, medical experts and listen to 999 calls made at the time of the incident.
Dr Carlyon said Home Office pathologist Dr Russell Delaney had concluded Mr Cole's death was "following an episode of altered behaviour including self-harm, excitement, exertion and restraint including the discharge of a Taser X26 device".
She added that Dr Delaney would be called to explain his findings.
'Heart of gold'
Dr Carlyon said there had been a delay in the release of Mr Cole's body to his family because the cause of death was "not straightforward".
"The reason we didn't release the body was because we were having expert tests," she said.
"We had the heart looked at, we had the brain looked at and we had toxicology looked at."
The inquest will take place at a later date.
At the time of the death Devon and Cornwall Police said its officers had been "confronted with a man who was in possession of a knife".
They said: "Due to the unfolding dynamic incident, police deployed a Taser."
Mr Cole's family and friends described him as "well-respected" and as having a "heart of gold".