Persimmon homeowners in Newquay warn would-be buyers with signs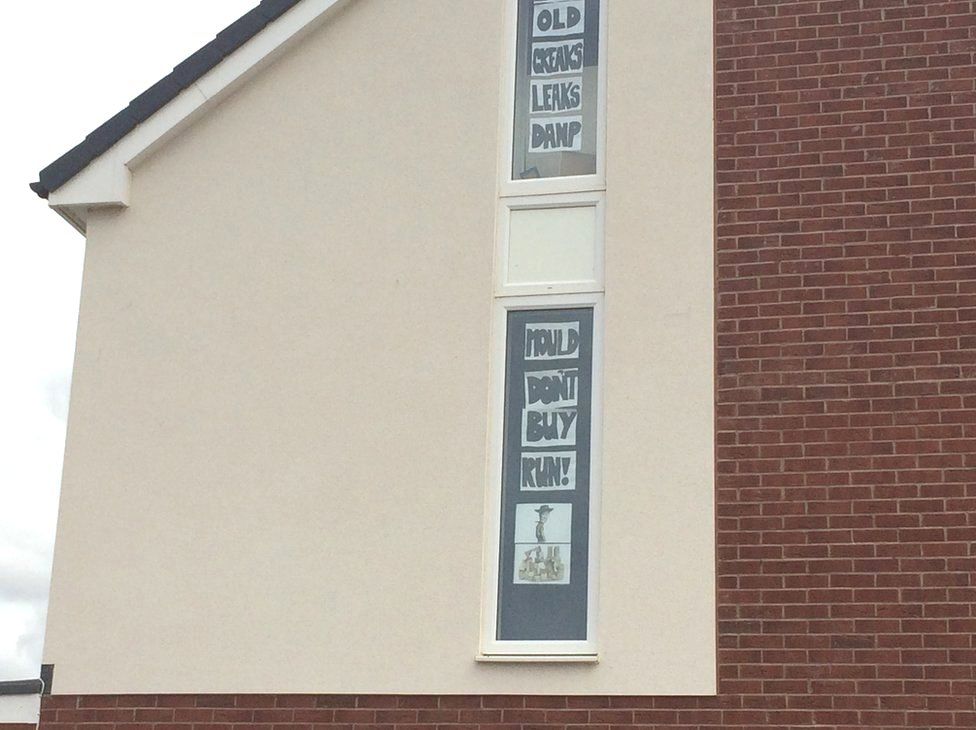 A couple living on a new housing estate have put up signs in their windows urging potential buyers not to buy the properties.
Lucy and Guy Sousse moved into the estate in Newquay, Cornwall, a year ago and say Persimmon Homes promised to complete snagging work by last October.
But they say they are still waiting for 90 different faults to be finished.
Persimmon Homes said it was committed to fixing the problems but had not been able to arrange a time for the work.
Lucy and Guy Sousse put their signs up in their home, directly opposite the Persimmon Homes marketing suite and show home.
The couple say the signs will stay up until the work is done.
"We did expect snagging moving in initially with a new home," said Lucy.
"But we didn't expect that the back patio doors wouldn't close overnight, which is a health and safety risk.
"My little boy walking up the stairs finding nails sticking out - that's definitely not just snagging."
Several other residents say they are also still waiting for repairs to be completed.
Tamsin Lynex bought her house on the Goldings estate about a year ago.
"You expect snags," she said.
"But you buy a new build so you don't have to do all that renovating.
"I feel like our house was rushed. I don't feel like our house is worth what we paid for it. I just feel like we wasted our money, really."
In a statement Persimmon Homes said: "The company remains committed to resolving the works and will liaise in a further attempt to establish a mutually acceptable timetable.
"Our policy is that we will not work in a customer's home without them being present.
"Under these circumstances, the presence of the sign is regrettable and has had an impact on other residents who are happy in their homes."
Related Internet Links
The BBC is not responsible for the content of external sites.