Gang members jailed for £1m Truro jeweller's robbery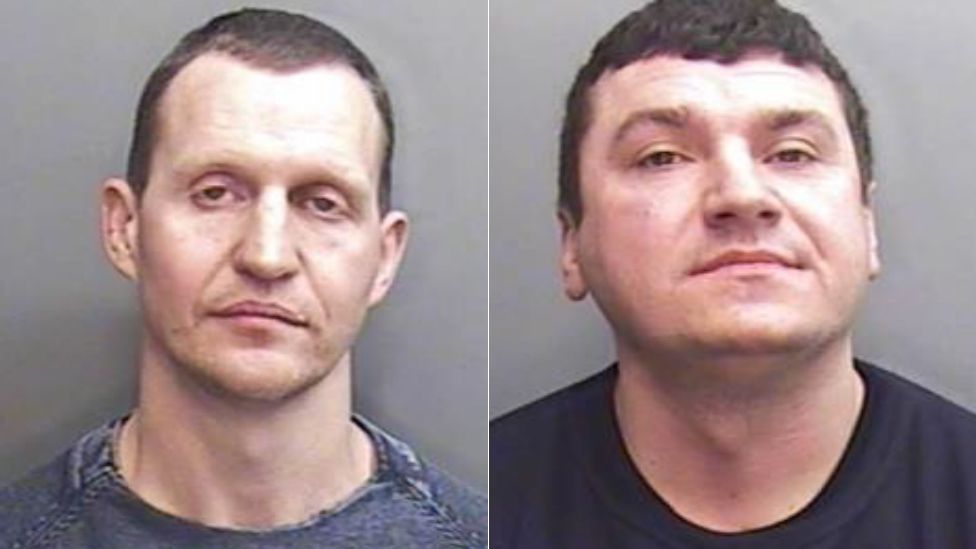 Members of an "international organised gang" have been jailed following a million pound robbery.
Andruis Buinevicius and Gytis Inokaitis were sentenced after a jury found them guilty of plotting a violent raid at Michael Spiers jewellery store in Truro, Cornwall.
Buinevicius was sentenced to 16 years and Inokaitis for 13 years for their part in the robbery on January 10.
Police described the raid as "Devon and Cornwall's biggest".
Buinevicius, 41, from Lithuania, and Inokaitis, 35 from Stuart Road in Plymouth, were found guilty of conspiracy to rob at Truro Crown Court.
The jury heard how four masked men entered the shop, threatened staff and put £965,000 worth of goods into holdalls before fleeing in a getaway car.
Staff were threatened with an imitation pistol, pepper spray and told "to get down" while crowbars were used to force open cabinets.
Haroldas Ivanovas, Salius Mickus, Tomas Bakierskis, and Rogertas Slekaitis, all from Lithuania, pleaded guilty to conspiracy to rob and using an imitation firearm with the intent of causing fear of violence and will be sentenced on Friday.
Harijus Jaciaskas, who was also on trial, was found not guilty of assisting an offender but pleaded guilty and was sentenced for three months for breaching a deportation order by residing in the UK.
Det Insp Pete Found, of Devon and Cornwall Police said: "We had no idea who was responsible which is very unusual for Cornwall.
"Over the days it became clear it was a very well organised attack by an international organised gang and that presented many challenges."
The men all from Lithuania, entered the UK shortly before the robbery, the jury heard.
Judge Simon Carr said CCTV showed it was a "professional operation"
The stolen property, which included a £95,000 ring, has never been recovered.
Related Internet Links
The BBC is not responsible for the content of external sites.