Five more men sentenced over £1m Truro jewellery robbery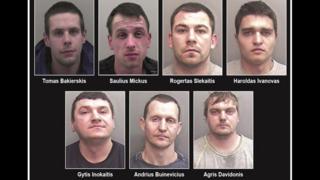 Five more men have been jailed for their part in a £1m jewellery robbery.
Haroldas Ivanovas, Salius Mickus, Tomas Bakierskis and Rogertas Slekaitis, were sentenced at Truro Crown Court for conspiracy to rob and using an imitation firearm with the intent of causing fear of violence.
A jury found them guilty of carrying out a violent raid at Michael Spiers jewellery store in Truro, Cornwall.
Agris Davidonis was given 21 months for perverting the course of justice.
Andruis Buinevicius and Gytis Inokaitis were jailed for on Thursday for their part in the raid.
Police described the raid in January as the "biggest armed robbery" the Devon and Cornwall force has ever seen.
The stolen property, which included a £95,000 ring, has never been recovered.
Read more stories from Devon and Cornwall
In sentencing, Judge Simon Carr told the men they had been part of a "meticulously planned and executed armed robbery" which had been carried out using "almost military precision".
He said he had taken into account "the sophistication and care with which the robbery was planned" when deciding on the length of the jail terms.
"In just under two minutes you succeeded in stealing almost £1m of jewellery from the Michael Spiers store," he said.
A jury heard how four masked men entered the shop, threatened staff and put £965,000 worth of goods into holdalls before getting away in a car.
Staff were threatened with an imitation pistol, pepper spray and told "to get down" while crowbars were used to force open cabinets.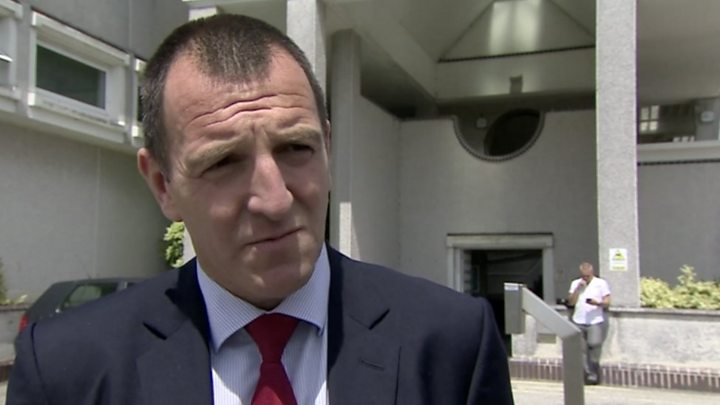 Harijus Jaciaskas was found not guilty on Thursday of assisting an offender but pleaded guilty to breaching a deportation order by residing in the UK and was sentenced for three months in jail.
The men, all from Lithuania, entered the UK shortly before the robbery.
The full sentences were:
Andrius Buinevicius, 41, from Lithuania - 16 years for possession of a firearm with intent to cause fear or violence and conspiracy to rob
Gytis Inokaitis, 35, of Stuart Road, Plymouth - 13 years for conspiracy to rob
Harijus Jaciaskas, 33 of Partington Lane, Manchester - three months for breaching his deportation order
Tomas Bakierskis, 24, from Lithuania - nine and a half years for possession of an imitation firearm with intent to cause fear of violence and conspiracy to commit robbery
Haroldas Ivanovas, 20, from Lithuania - seven years in a young offenders institution for conspiracy to rob and possession of an imitation firearm
Saulius Mickus, 28, from Lithuania - eight years for conspiracy to rob and possession of an imitation firearm
Rogertas Slekaitis, 25, from Lithuania - nine and a half years for possession of an imitation firearm with intent to cause fear of violence and conspiracy to commit robbery
Agris Davidonis, 30, of Petroc Court, Gunnislake - 21 months for perverting the course of justice