Boy guilty of kicking and punching dog to death St Ives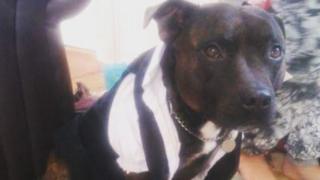 A 14-year-old boy has been found guilty of kicking and punching a dog to death.
The teenager "completely lost his temper" and attacked the Staffordshire bull terrier after it held down his own dog in St Ives, Cornwall, in October.
The dog, called Teddy, suffered a fractured skull and multiple blunt-force injuries to his head, neck and torso.
At Truro Magistrates' Court, the boy was convicted of causing unnecessary suffering to a protected animal.
His father, who cannot be named for legal reasons, was cleared of the same charge.
The boy, who is now 15, was told he would be sentenced on 22 August following the preparation of a report on him by the youth offending team.
District Judge Diana Baker said the "arrogant" teenager would be going "straight down those steps to custody" if he was an adult.
"This is at the highest level of animal cruelty," she said.
"It is a persistent attack on a dog, causing the ultimate injury, death, by kicking and punching."
Prosecuting for the RSPCA, Kevin Withey described the attack, which he said was witnessed by "many people" on a residential street, as "traumatic".
"This dog has sustained multiple injuries from blunt trauma," he said.
He said despite the risk of stereotyping "in terms of the reputation of Staffies", Teddy was "good natured" while the other dog was "aggressive".
The defence had argued the boy was simply trying to protect his family dog.
Speaking after the hearing, Teddy's owner Jacqueline Stevens, 72, said "gentle Ted", who was days away from his ninth birthday, was "my world".
"It has been a long time but in the end we got justice, Ted and I," she said.
Ms Stevens said she struggled to think of Teddy in the past tense and added: "I miss him so much."