Penzance heliport approved by Cornwall Council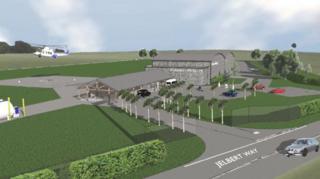 Plans for a second air link to the Isles of Scilly have been approved by Cornwall Council.
The new heliport, at a site in Eastern Green, will bring back helicopter services between Penzance and the Isles of Scilly.
The £2m project by RDS will fly to both Tresco and St Mary's using 15-seater helicopters.
The application went before Cornwall Council's strategic planning committee where it was given unanimous approval.
The service, which will be similar to the one that closed in 2012, will run seven days a week and will begin in 2019 with a maximum of 17 return flights per day during the summer peak season.
The planning application was submitted by Robert Dorrien-Smith who is the owner of Tresco.
Speaking after the decision, he said: "Our links with Cornwall are terribly important to us.
We're always a junior partner. But the fact that Cornwall is paying attention to our needs is really significant, and heartwarming."
Chairman of the council of the Isles of Scilly, Robert Francis, previously said he was worried for the future of the islands if the Penzance heliport did not go ahead.
Penzance GP, Dr Mark Russell, who was one of the plan's objectors, said he still had "concerns about the 750 households within a kilometre of the heliport who will suffer significant nuisance".