Three dolphins dead after mass stranding in Cornwall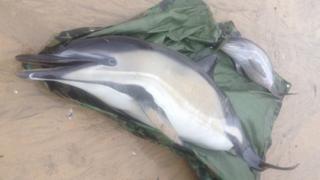 Three dolphins have died after they were stranded on a beach in Cornwall.
A pod of 11 common dolphins beached at the Godrevy headland, but two off-duty firefighters managed to get eight back in the water.
Dan Jarvis, from the British Divers Marine Life Rescue, said it was "really unusual" for a large number of dolphins to be stranded simultaneously.
Two females and a calf died. An investigation is under way and a post-mortem investigation will take place.
See more news from Devon and Cornwall
Mr Jarvis said the firefighters had "done a fantastic job" in floating eight of the dolphins back into the sea.
"Unfortunately there were three animals which hadn't survived, it seems they had already been stranded for some time," he added.
"Two adult females and one very young calf, maybe a few weeks old, died on the beach."
Mr Jarvis said it was "very much mixed emotions" and suggested the mass stranding may have been caused by one of the dolphins having a health issue that caused them all to head for the shore.
"We haven't seen an incident like this since the common dolphin mass stranding in the Fal Estuary from 2008," he said.