Father riding late daughter's tiny bike 200 miles for charity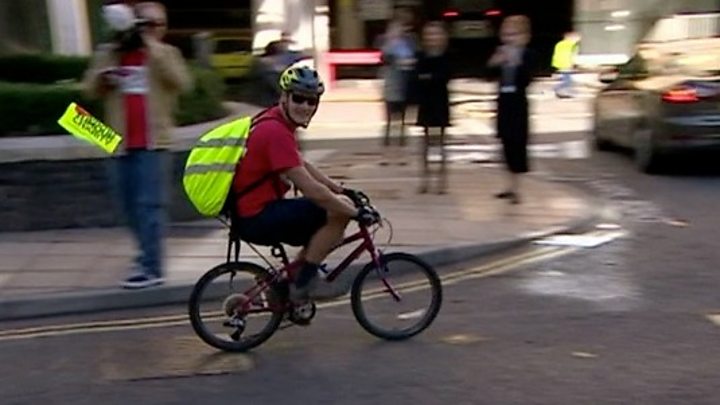 A man from Cornwall is cycling on a tiny pink bike that belonged to his daughter to raise awareness of the brain tumour that killed her.
Peter Williams, from Penzance, set off from Bristol Children's Hospital on Friday.
He will cycle just over 200 miles (321km) to Land's End in memory of seven-year-old Ellie who died from a tumour three years ago.
"She would have thought I was a bit bonkers doing it," Mr Williams said.
Brain tumours are the biggest cancer killer of children and adults under 40 and part of Mr William's mission is to highlight the "lack of funding" for research.
"If you're under 40 and you're going to get cancer it's more likely to be a brain tumour than any other cancer," he said.
"Less than 20% of people who are diagnosed with a brain tumour survive more than five years," he said.
At 6ft, Peter said he will have to be "a bit clever" with how he rides the tiny bike he came across during a garage clean-up.
You may also be interested in:
English rainy-day phrases explained
'Croydon cat killer' mystery solved
Royal Mail worker quits after post stolen
"I'm going to be standing up and riding it as much as I can.
"I don't want to destroy my knees and my back doing this because I want them to last a few more years yet and maybe do another challenge in the future."
Mr Williams is expecting the cycle to take about a week to complete.