'Emaciated' dog died from malnourishment in Bodmin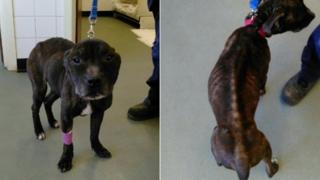 A severely malnourished pet Staffordshire bull terrier had to be put down after his owner failed to take him to a vet, a court has heard.
Linda Cooper, 47, from Bugle in Cornwall, admitted causing unnecessary suffering to a protected animal at Truro Magistrates' Court.
The court heard how 11-year-old Kano was eventually taken to a vet by a friend of Cooper in February.
Despite six days of intensive treatment care he did not survive.
Prosecuting for the RSPCA, Lindi Meyer said the animal was "completely emaciated from prolonged neglect" and "could barely walk".
He also had a painful chronic liver condition that caused a lack of appetite, the court heard.
Cooper had owned Kano for two years and the offence happened in Bodmin.
Sentencing has been adjourned to 10 October.
Cooper, of Riverside Park, was told by chief magistrate Georgie Higgs that the court was "looking at all options, including a custodial sentence".