Woman 'starved pet dog to death'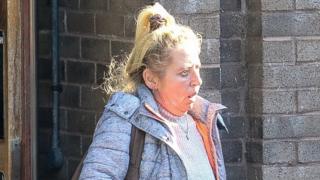 A woman who starved her dog to death spent her money on her drug addiction rather than on her pet, a court heard.
Linda Cooper, 47, admitted causing unnecessary suffering to her Staffordshire bull terrier Kano by failing to address his weight loss.
District Judge Diane Baker said: "It was obvious to anybody that the dog was suffering and losing weight rapidly... you were starving it to death."
Cooper was given a suspended prison sentence.
Truro Magistrates' Court heard that Cooper, of Bugle, Cornwall, had said she did not have enough money to get medical attention for Kano.
Lindi Meyer, prosecuting for the RSPCA, said Kano first became ill in January 2018 and required further treatment but Cooper did not take him back to the vet.
A neighbour noticed the dog's weight loss and took him to the vet on 27 February where it was discovered that he was "emaciated" and suffering from chronic liver disease.
Ms Meyer said Kano had muscle loss from his head, legs and body which an expert said would have been painful, and he could barely walk. Despite six days of intensive treatment care he died.
Charles Hulley, defending Cooper, said she had engaged with probation and been open about her drug addiction.
"She does still say that it was finances that made it difficult to go back (to the vet)," he added.
Judge Baker said: "If you haven't got enough money you feed the dog; you don't spend the money on drugs."