Raw sewage spill at Fistral surf beach Newquay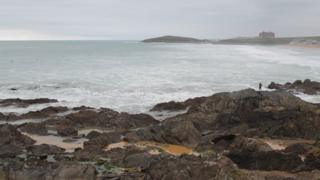 A burst pipe has spilled sewage on one of the UK's most famous surf beaches, leaving the water visibly brown.
The raw sewage has affected the south end of Fistral beach in Newquay, Cornwall, which recently hosted the English National Surfing Championships.
Cornwall Council and Surfers Against Sewage (SAS) is advising people to keep out of the sea for at least 48 hours.
Surfers described the spill as "disgusting" and "worrying".
Good conditions mean the sea has been busy with people surfing and body boarding.
'Bit worrying'
Surfer Lee Chafe from Newquay said: "When I came out I saw the sign saying the water quality might be bad, there's a bit of pollution.
"I did swallow some water when I wiped out on a wave. I think I'll be fine but it's a bit worrying."
Body boarder John Shelton said: "I could smell it and could see the water board trying to fix it, but if that is going into the sea it is disgusting".
One local resident, Peter Scobey, had been surfing and said: "I was informed while in the sea and I'm not especially happy about it. I just hope I'm not ill."
Ben Hewitt, director of campaigns and projects at SAS, said he was very concerned as it's "very visible that this is a sewage spill".
He added the health risks associated with swallowing sewage include gastroenteritis, hepatitis and ear, nose and throat infections.
SWW said that tankers had been deployed to Newquay following the burst from Yellow Sands Pumping Station near Esplanade Road.
The company said it was working to fix the problem "as quickly as possible".