The gamer who spent seven years in his dressing gown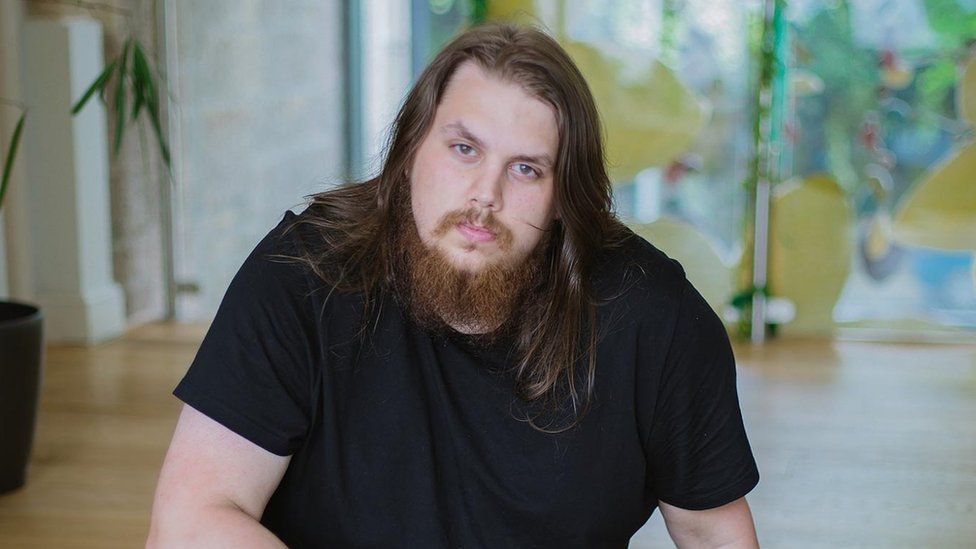 A gamer who left his home fewer than 10 times in seven years explains how he's now helping other young people break away from a life of isolation.
"Years and years were just spent sitting at my computer," says Billy Brown.
"I would only go outside for doctor's appointments or dentist's appointments.
"I would never go outside to socialise or interact with other people. My entire existence was online."
In what was a difficult childhood, Mr Brown was taken into care repeatedly during his mother's hospital stays for her mental and physical health problems.
His attendance during his GCSEs was 13% but it was the stress of starting A-levels at college, coupled with breaking his ankle, that caused him to withdraw from the outside world completely.
Mr Brown, now 24, dropped out of college and spent the following years at home - gaming, in chat rooms and reading about politics.
He became almost entirely immersed in an online world of "echo chambers" where he felt the pull of extremism and cybercrime.
Mr Brown, from Ashton, Cornwall, says he became increasingly "eccentric" and eventually lost touch with reality.
"I can count the number of times I went out in a seven-year period on both of my hands," he says.
"I wasn't taking care of myself, I was only taking care of my mother.
"There were times when I was suicidal. It really took its toll on me.
"I wasn't sure why I was alive, why I was here... I realised if I didn't do something I wouldn't be here in a year or two years."
Now, just 14 months after stepping outside for the first time in years, Mr Brown has come up with his own way of helping people like him to improve their lives - through tabletop gaming.
His board game, which he also hopes to develop into an app, aims to help young people build on their social skills and overcome any issues they face.
How do you play the game?
It's a role-playing board game for small groups.
Players meet once a week over a period of weeks or months, improving their social skills as they play.
No equipment is needed aside from a pen and paper, but additions can include dice and character descriptions.
The idea is the participants play themselves, earning points by achieving certain tasks.
They can improve their "characters" and get extra points in between sessions by taking on a challenge in the real world.
Participants have to prove they have completed the tasks and share the details in an online group set up for each game.
"It is my way of giving back, my way of trying get people to interact and socialise," Mr Brown says of the as-yet-unnamed game.
"Something had to change [in my life] and I don't want people to have to get to that point before they make a change."
Kirsty Atkinson, who has experienced isolation, is one of the volunteers who took part in a test session for Mr Brown's game.
"I didn't have any friends because I had been through a lot of bad relationships and friendships, so because of that I just stayed inside," says the 22-year-old from Pool in Cornwall.
"I didn't do much, I didn't get out - I didn't want to."
She describes Mr Brown's game as "really fun", and is "very sure" it can help people in a similar situation to hers.
"I feel like we really connected as a group," she says, adding that it's a good way to meet other young people struggling with similar issues.
Another player, 20-year-old Ryden Pyrosa, from Pendeen in Cornwall, started the session concerned about not knowing how to play the game.
An hour later he wanted to know when they could play again.
"There was just something about it," he says, grinning.
George Hardwick, a consultant with the Real Ideas Organisation who's been working with Mr Brown since he took his first steps to reintegrate with the world, says it was "wonderful to see young people of both sexes interacting... to see them smiling and laughing - that in itself is a massive victory".
For Mr Hardwick, watching Mr Brown lead a group through his new game for the first time in a test session was an emotional experience.
"Billy had essentially been living in his dressing gown for seven years," he says, describing his progress as incredible.
Mr Hardwick, who is supporting the 24-year-old with the game launch, adds: "He has gone from being severely agoraphobic to now hosting a game that is helping young people to explore their gifts and talents and how they might be able to share those with the world in a way that can really support them.
"It is a testament to him, to his determination, to his courage and, in my opinion, the appropriate support that he has got along the way."
Mr Brown, who is now working in his first job as a youth support worker, has seen his horizons broaden in a way he would never have thought possible a couple of years ago.
For him, the board game is about the "redemptive power of community".
"People spend thousands of hours playing games just to see their character grow," he says.
"But what if they can see themselves grow?"
Related Internet Links
The BBC is not responsible for the content of external sites.