Truro's City of Lights parade remembers end of World War One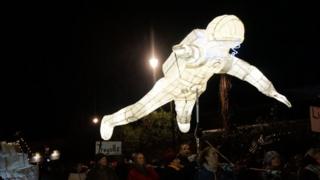 The end of World War One has been commemorated in a parade of lanterns.
The theme of this year's City of Lights event in Truro was "Remember", which marked the 100th anniversary since Armistice Day in 1918.
Hundreds of school children walked the route on Wednesday with hand-made creations and local musicians and dancers joined in the parade.
Held in the city since 1995, the procession coincides with the switching on of Truro's Christmas lights.
Truro has new street decorations this year thanks to a donation of nearly £15,000 from the town crier, Lionel Knight, and his partner Carol Bane.
Tony Crosby, the artistic director for the City of Lights, said they remembered the start of World War One in 2014 and it was only fitting the end of the war was commemorated this year.
"The first part of the parade signified the war's ending and the arrival of peace bringing the theme of 100 years ago full circle," he said.
"An enormous sacrifice was made so that we can look forward and our parade has been filled with the young people who will be Truro's future."
The City of Lights parade costs £50,000 to put on every year and the money is raised by volunteers.
Last year's event was postponed because of bad weather and took place at the end of January instead.