Cornwall storms: Double lightning strike starts house fire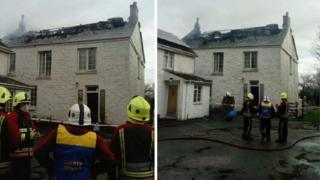 A house caught fire when it was struck twice by lightning.
The three-storey property on Cornwall's Lizard Peninsula was hit just after 11:30 GMT, with the blaze spreading from the roof to the top floor of the building.
No-one was injured in the blaze, in the village of Ponsongath, near Coverack, which caused extensive damage to the top of the house.
Fire crews attended amid storms which swept across the South West.
"We did have warnings of quite severe thunderstorms in the area which last throughout the whole weekend, but it is very unusual for a strike to cause a fire," Gary Rich from Cornwall Fire and Rescue Service said.
"When the crews arrived within five or ten minutes of the call the roof was well alight."
The fire service had to mobilise a water carrier as there were limited supplies in the village.
Richard Cadman lives in one of the properties on the site and said he was full of praise for the firefighters and neighbours who offered to help him and his three children shelter during the fire.
"I can't put into words how mad it is - one lightning strike is in the millions but two is just unreal. It just does not happen. It's just devastating for the landlords."
You may also be interested in:
Firefighters remained at the scene to damp down the embers and try to prevent fire jumping to a neighbouring property.
The Met Office has issued a yellow weather warning for rain in place across Devon and Cornwall from Friday until 18:00 on Saturday evening.
It warned that bands of heavy, thundery showers would bring the chance of flooding in the South West.