Plastic pollution: Seal called Brian May swallows bag in Cornish waters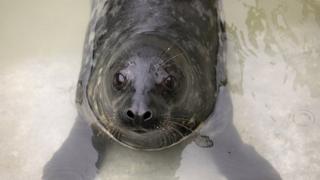 A seal pup named after Queen guitarist Brian May had a hair-raising experience after swallowing pieces of a plastic bag.
Staff at the Cornish Seal Sanctuary had to help the five-week-old pup back to health after he ingested the plastic.
Brian was rescued due to "severe malnourishment and superficial wounds" and had trouble swallowing fish.
Sanctuary curator Tamara Cooper said it was another example of "how detrimental plastic pollution is".
But Ms Cooper said the seal was doing ok after being rescued by the British Divers Marine Life Rescue.
Brian is the first seal the sanctuary, in Gweek, Cornwall, has seen that has directly ingested a plastic bag.
Plastic pollution threat
"He is currently recovering well in the hospital, gaining weight and learning to eat for himself," Ms Cooper said.
"Seals are extremely curious and playful creatures - they won't understand these foreign objects.
"It is extremely sad to think of all the seals out there that are at risk of the increasing threat of plastic pollution."
The seriousness of his condition came to light during Brian's first week recovering at the sanctuary.
You may also like:
The team said he spent the majority of his time sleeping and had trouble swallowing fish, so staff had to gently force-feed him in order for him to eat.
It came as a "great shock" when they found he had passed two pieces of plastic bag, totalling 3in (8cm) in diameter.
The sanctuary said it had seen 28 casualties from the sea so far this season and the team had chosen a 1980s theme for names.
Brian will be in good company recovering alongside his fellow pool-mates Freddie Mercury and Roger Taylor.