Nicky Reilly: Failed Exeter bomber 'angered by prayer ban'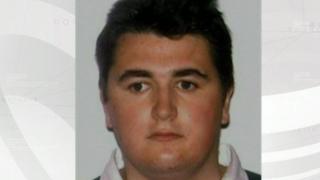 A failed bomber who tried to blow up a restaurant 10 years ago felt "justified" in assaulting hospital staff, an inquest has heard.
Nicky Reilly, 30, converted to Islam and changed his name to Mohammed Saeed Alim, before his 2008 bombing attempt.
He launched an attack on staff at Broadmoor psychiatric hospital in 2015 after feeling "anger" about a ban on communal prayers, the inquest was told.
Reilly was then moved to HMP Manchester and found dead in his cell in 2016.
Jurors in Heywood, Greater Manchester, are considering the circumstances surrounding his death.
Reilly was jailed for life with a minimum of 18 years in January 2009 after the botched attempt to set off a homemade bomb in the Giraffe restaurant.
Latest news and stories from Devon
His attack at Broadmoor, committed with another patient, led to clinicians concluding he was no longer willing to engage in treatment at the psychiatric hospital.
'Done nothing wrong'
Dr Kevin Murray, consultant forensic psychiatrist at Broadmoor, told the court he did not consider mental disorder "played any role" in the hospital attack.
"The assault had nothing to with mental disorder and everything to do with his anger at the policy change earlier that week and his frustration and his sense of being victimised," Dr Murray said.
"He asserted to staff that he was justified in what he did and he had done nothing wrong."
After the attack, Reilly, from Plymouth, was transferred back to the prison system.
He had been moved to Broadmoor to help him gain a better understanding of his condition of Asperger's in relation to his radicalisation and the risks posed in future, the court had heard.
On Monday, Reilly's mother Kim told the court she thought her son was an "easy target" for radicalisation.
The hearing continues.