Hunting dogs trapped in Cornwall mineshaft for four days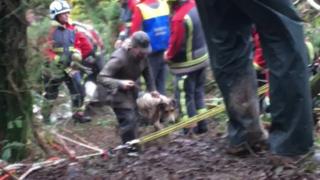 Five hunting hounds trapped 20m (66ft) down a mineshaft for four days have been rescued by firefighters.
Six dogs from the Four Burrow Hunt went missing in the St Allen area, near Truro, Cornwall, on Saturday, a hunt member said.
One of the hounds died and one of the rescued animals is thought to be seriously injured.
It is believed the dogs managed to get underneath wire mesh covering a mine shaft after some erosion beside it.
Hunt member Katie Hancock said the Cornwall Search and Rescue Team found the animals on Tuesday evening after consulting mining maps.
She said there were a number of searches after the animals vanished during a trail hunt and hunt members were "massively relieved" they had been found.
"It felt like these hounds had been plucked off the face of the earth," she said.
Tony Penrose, of Cornwall Fire and Rescue Service, said: "It's very difficult access through a very steep slope and a wood that goes down to a very steep area before a mineshaft."
Trail-hunting, according to the pro-hunting Countrside Alliance, involves "laying of a scent across the country which a pack of hounds then searches for and follows using their noses".