Police officer Peter Drummond had sex with girl aged 14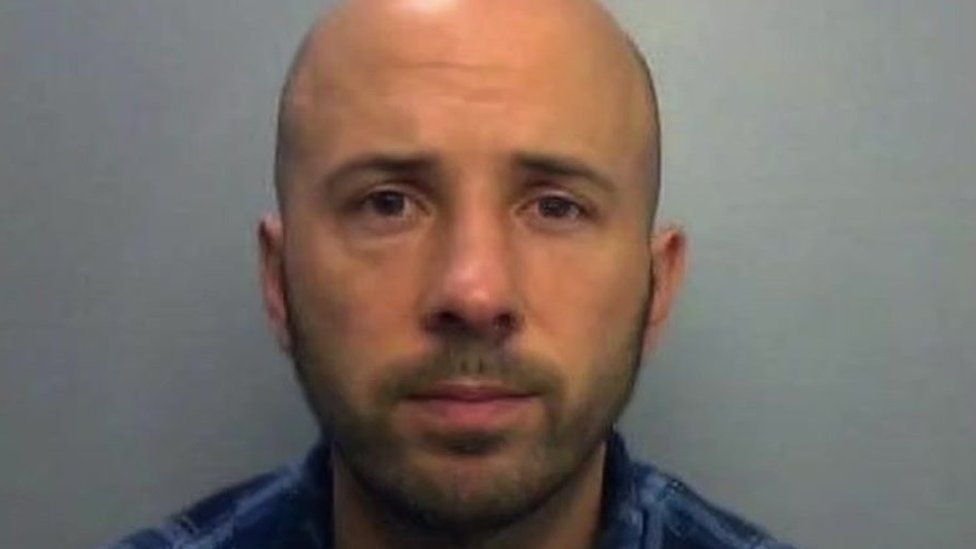 A police officer has been found guilty of having sex with a 14-year-old girl he befriended on social media.
Anti-terrorism officer Peter Drummond, 38, had sex with the girl twice at her home in Cornwall after speaking to her on Kik messenger, Snapchat and Skype.
He was found guilty at Truro Crown Court of three counts of sexual activity with a child, but not guilty of three counts of rape.
Drummond, of Three Mile Cross, Berkshire, was jailed for eight years.
During sentencing, Judge Simon Carr said the girl had "significant personal problems" and "opened up" to Drummond.
The judge said: "The reaction of any decent human being would have been to try to get her help but you are not a decent human being.
"What you did was to exploit that position. You found somebody you could manipulate and pretended to show concern and care for her."
The court heard the victim had been "broken" by the ordeal and had attempted to take her own life.
The girl's mother said her daughter had been "utterly destroyed" by Drummond's actions.
Drummond made the 400-mile round trip to the girl's home twice - the second time getting in through an upstairs window while the girl's stepfather was downstairs.
The prosecution said Drummond tracked the girl down using Snapchat maps.
The married father had worked as a specialist officer with the Ministry of Defence since 2006, the court heard.
During the trial Drummond said he thought the girl was 17 or 18 but said he had never checked her age.
Sentencing Drummond, Judge Carr told him: "You knew or should have known she was under age."
Drummond first went to the girl's house in October 2017.
"You left a 14-year-old girl who had just had sex for the first time so you could drive home to your family.
"Your moral compass did not allow you to say something had happened that should not happen again."
The judge told Drummond "sex was the only thing on your mind" when he returned to the girl's home in November 2017.
"You got in through her window knowing her stepfather was downstairs. I suspect that was part of the thrill."
Drummond was sentenced to eight years for each count with all three sentences to run concurrently.
Related Internet Links
The BBC is not responsible for the content of external sites.