Boardmasters cancelled over storm fears hours before gates open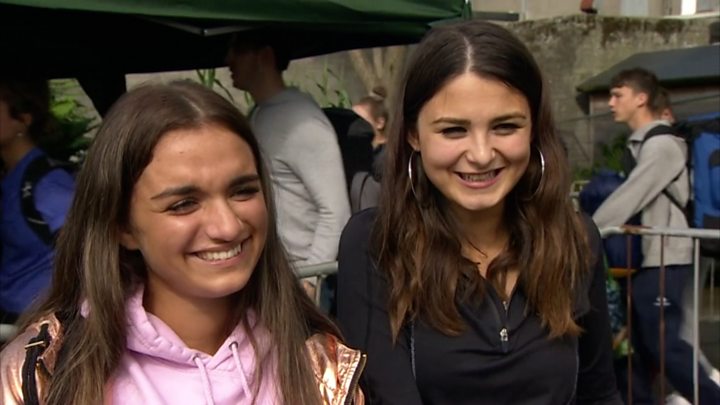 The Boardmasters festival has been called off just hours before gates were due to open, after warnings the site would be battered by storms.
About 55,000 people were expected in Newquay to see headliners Wu-Tang Clan, Florence + The Machine and Foals.
Many revellers were already on their way, with crowds now gathered at the town's railway station or searching for somewhere to stay.
Organisers said ticket holders would get a full refund.
Festival bosses said the forecast was "too severe" for the event to go ahead and felt they had no option but to cancel because they "just could not compromise the safety of our customers".
Organisers said refunds were available for anyone who bought a ticket via the festival website or an official ticket seller.
Fern Jameson said she had received no news on when she would get her refund and said the "£10 booking fees and the £10 litter bond" were not getting refunded.
But Taia, who was coming to the festival from Farnborough, said the festival had been "amazing at keeping us all posted since they made the announcement".
She said she had not heard when the refund would come through, but said it was a "huge relief" to hear they would be receiving one.
The Met Office has issued a yellow weather warning for heavy rain and thunderstorms for much of England and Wales on Friday and Saturday, with strong winds forecast for Cornwall.
Deputy Chief Constable Paul Netherton said from looking at the weather warnings it would make the festival site "very dangerous".
Event organiser Andrew Topham said the decision was taken after discussions with the Met Office, the event safety team, emergency services and representatives from Cornwall Council.
He said the priority now was to de-rig the festival site to mitigate the risk it posed.
Nightclubs and bars across Newquay have said after-parties are still going ahead and some new events will be added.
All campsites in Newquay are full and people are being directed to stay on the outskirts of the town, tourism bosses said.
The main acts were not set to play until Friday but gates were due to open on Wednesday.
Ticket prices ranged from £69 for day-entry passes through to VIP packages for five days of camping from about £370 per person.
Kristina Powell said she had not been able to sleep for shock after learning that the festival was cancelled after travelling from Cheshire.
She said she and her friends "at first couldn't and didn't want to believe it and honestly thought it was a hoax".
"It all seemed a bit unprofessional - a screenshot of a statement written on a Notes app?
"The website was down, which added to our doubt. Then, when it did come back up, tickets were still available to buy."
She said tickets were still available on the website until 01:30, despite the festival being cancelled hours earlier.
One teenager who spent about £450 said he was "never coming to Cornwall again".
Dan Ahern, 17, from Canterbury, travelled with friends, Grace Harvey, 16, from Margate, and Kieran Noble, 17, from Whitstable.
He said: "We could stay and go camping but it's just even more money."
Bus company Megabus said on Twitter it would be making extra seats available on its Newquay to London service for passengers affected by the cancellation.
Rail operators GWR and CrossCountry both tweeted that those with return tickets from Newquay between now and Monday could use their returns on Wednesday.
Responding to one customer, GWR added that those with refundable tickets could get refunds if they do not travel.
Acts due to take part have given their reaction, with Foals reposting Boardmasters' cancellation notice on Facebook and adding the single word: "Gutted".
BBC forecaster Paul Goddard said that while the weather warning currently predicted high winds on Saturday, his weather maps were showing they were likely to hit on Friday night.
He added there could be average wind speeds of about 40mph, and gusts of up to 60mph.
Malcolm Bell, Visit Cornwall chief executive, said that despite the cancellation the county was "still open for business".
However, local businesses say they are already concerned about the effects of the cancellation.
Tim Rowe, manager of Newquay's Rip Curl shop on Bank Street, said: "My biggest problem is that families are put off coming this week because of Boardmasters.
"Not only have we lost the T-shirt and hats trade from the festival-goers, we won't get the families buying wetsuits and surfboards either."
Other acts that were set to perform at the site in Watergate Bay included Razorlight, Dizzee Rascal and Jorja Smith.
The five-day surfing side of event, at nearby Fistral beach, is still going ahead.
The surfing competition is often overlooked because the swell at this time of year is usually small. However, the current forecast is for waves of up to 10ft (3m) at Fistral.
The final day of the 2014 festival was cancelled because of bad weather.