Cornwall earthquake: Homes shake in Helston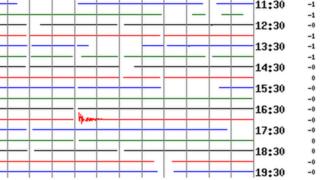 An earthquake shook west Cornwall with residents reporting a loud bang and shaking homes and windows.
The British Geological Survey (BGS) said the quake, measuring 2.2 magnitude, happened about three miles (5km) south-west of Falmouth.
Residents in Helston reported feeling tremors at 17:00 BST on Thursday. No structural damage was reported.
The BGS confirmed the "seismic event" and has urged affected people to tell them how they experienced it.
Stuart MacKenzie, from Leedstown, said he had been upstairs in his house when he heard a sound like "thunder or a large lorry going by".
"I also was aware of the bit of movement because I heard the room creak a bit," he said.
Radio Cornwall producer Rebecca Wills, from Helston, added: "There was a low rumble and there was like a sonic boom.
"The whole of the house shook and everyone kind of looked at each other and thought 'what on earth was that?'"
Despite that official earthquake confirmation, there was some gentle mocking of the Cornish quake on social media.
Holidaymakers in Cornwall pointed out that nature had not exactly been on their side and the earthquake seemed to be the icing on the cake.
There are about 15 seismic events of a similar size or greater every year in the UK and about 700 around the world, the BGS said.