Labradoodle puppy stolen at knifepoint on morning walk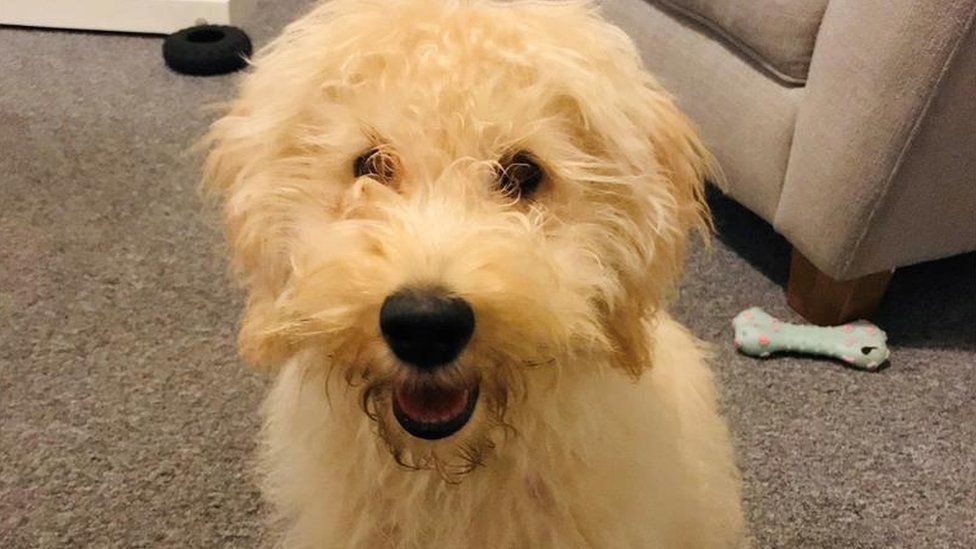 A puppy was stolen at knifepoint while on a morning walk with its owner, police have said.
The six-month-old labradoodle called Waffle was taken in St Austell, Cornwall, at about 07:00 GMT.
A masked man approached Catherine Hussain, 54, and threatened her with what she believed was a knife.
She described the assailant as about 5ft 8in (1.72m) tall, wearing a black hooded top and scarf and speaking with a foreign accent.
"I'm just trembling and I can't stop crying," said Mrs Hussain.
A man approached her while she was emptying the bins before heading off to work.
"I realised there was somebody close by because [Waffle] was wagging his tail," she said.
"When I turned around there was this man, dressed in dark clothing, hood up, and something over his face."
Mrs Hussain said the man swore at her and said "dog" in a foreign accent, gesturing for Waffle to go towards him.
"In his left pocket he brought his hand out and I heard a spring-type noise - with his right hand he gestured to the dog and I just froze.
"I don't know whether he snatched the dog or if I handed him the dog - I can't get my head round it," she added.
She described Waffle as a sociable, friendly dog.
"He'll literally go and make himself known to anyone. He's like my baby."
Sgt Steve White, from Devon and Cornwall Police, said: "Myself and all of the officers at the police station dealing with this crime also feel very sad for the family over what is a cruel and mean-spirited crime, especially during the Christmas period.
"I am sure that someone somewhere knows of a friend, relative or neighbour that has suddenly come into possession of a dog that may be Waffle."
Related Internet Links
The BBC is not responsible for the content of external sites.