Parking beachgoers 'break into council field' at Seaton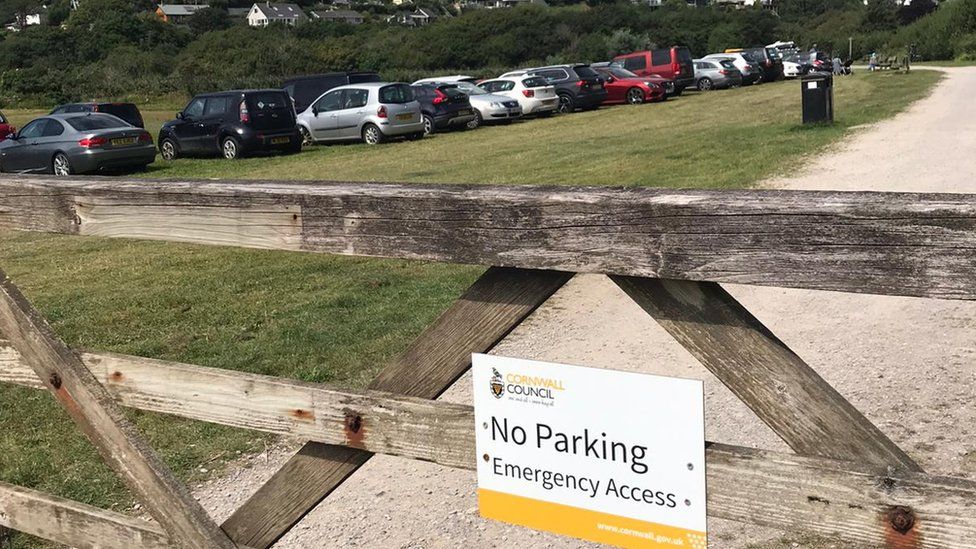 Beachgoers have broken on to council land to find parking at a popular Cornish coastal spot, residents claim.
About 100 vehicles have driven through the barrier at Seaton Valley Countryside Park, just a few hundred metres from Seaton Beach.
Residents said some drivers had also been verbally abusive to those who have confronted them.
It comes as a nearby café started charging for their car park because people were "abusing the privilege".
A resident told the BBC that vehicles had broken on to the land, blocked emergency access for local properties and were getting stuck in the grass.
They said they had contacted Cornwall Council but were told no-one was available to help.
Starting on Sunday, Seaton Beach Cafe started charging £10 for cars to park on their land, which is refunded if you spend the same amount at the cafe.
"It's a decision we haven't taken lightly but this is due to people continually abusing the privilege, leaving legitimate customers driving away unable to park," it said in a post on Facebook.
"We are only sorry we have to take such drastic measures," it added.
Cornwall Council said its "parking enforcement team is aware of the issues, and is providing extra patrols who will issue fixed penalties for any unlawful parking".
"Planned fencing works were delayed by Covid 19, but will now be carried out after the summer peak.
"In the meantime temporary fencing may be used to prevent access to the park by vehicles."