Brexit: 'Under-loved' fish renamed for British tastes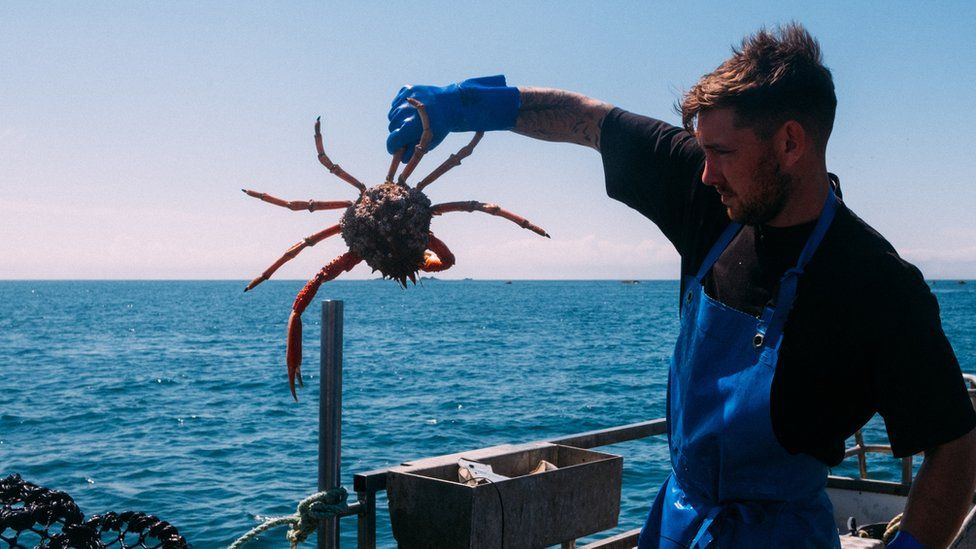 Fishermen are to rename two of their biggest exports in a bid to attract British consumers after post-Brexit difficulties selling to the EU.
Megrim sole is to be sold as Cornish sole, with spider crab being rebranded as Cornish King crab.
It is being driven by the Cornish Fish Producers Organisation (CFPO) after research with chefs and consumers.
Paul Trebilcock from the CFPO said: "There is something about the names that has negative connotations."
Both species primarily rely on exports to Europe, which he explained that "in the current climate is not a pleasant experience".
"The two species are particularly under-loved in this country but really popular with some of our export markets."
Each year about 1,000 tonnes of megrim sole is brought into Newlyn, Cornwall's biggest fish market, with 98% exported.
About 85% of spider crab is exported, mainly to Spain.
Trade has been disrupted this year by the extra paperwork and border checks required after Brexit.
Mr Trebilcock said: "Our investigation revealed that simply by calling it Cornish sole, straight away more people were willing to to try it and were more interested in finding out where it came from."
Johnny Murt, a shell fisherman off Padstow, said: "It can only be a good thing."
"It is a hard sell but if the rebranding can just get people to taste it, they will immediately realise just how good spider crab is," he said.
Chef Jack Stein agreed and said spider crab and megrim sole were both "good value and delicious".
He said spider crab was very sustainable with "amazing quality meat and there is just so much of it in the summer" but lots of it was sold in the EU.
Similarly megrim sole had a "lovely taste" similar to plaice, he said.
"With a bit of a rebrand and a bit of a publicity drive we might be able to eat more of it in this country," he added.
Related Internet Links
The BBC is not responsible for the content of external sites.